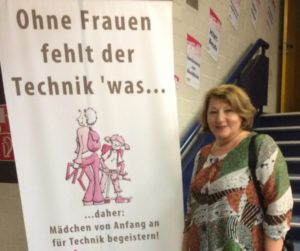 Goldita Nasta, Go Nasta in Cologne
As an engineer, I have had the opportunity to develop a global view of business and industry. I've spent 40 years working – mostly with men – in a variety of management jobs in the fields of mechanical engineering and the automobile industry.
I truly enjoy working with women to help them develop their leadership abilities. It is clear to me that there is quite some catching up to be done concerning women in executive positions in big organizations, especially in Germany. Many women are struggling to anchor themselves in technical professions. That's one of the things that motivated me to work with the KIM mentoring program for "Competency in Management" which is sponsored by the NRW State Ministry of Health.
My principle recommendations to the women I mentor are:
Work on your brand
Concentrate on your strengths
Build alliances and networks to complement your weaknesses
Learn from mistakes
Forget perfectionism
Network effectively
Be self-confident